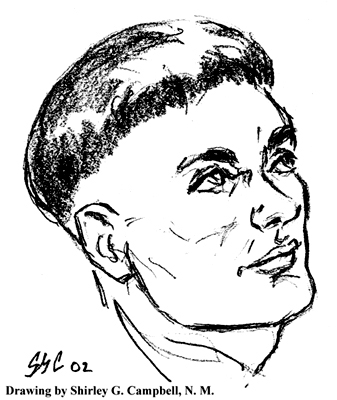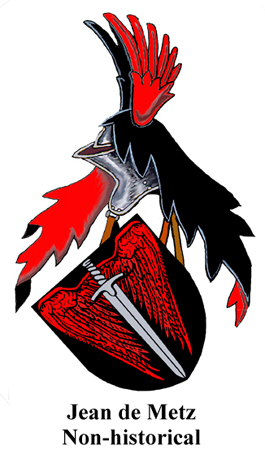 Jean de Metz, Part VI
CHAPTER 6
PREPARATIONS AT TOURS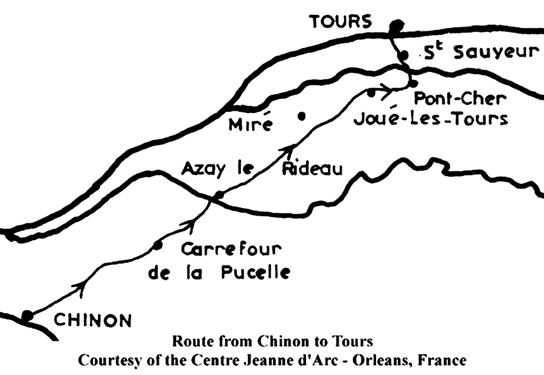 It took us several days to get from Poitiers to Tours, where the finest French armorers have their forges and shops. Jeanne came there to be fitted for her own custom-made armor. She and her household staff stayed at the home of Jean de Paul and his wife. He was an advisor to Charles' mother-in-law, the Queen of Sicily.
There the Dauphin assigned Jeanne her own personal staff, as befitting any knight of the realm. Besides Bertrand and I, six others joined her retinue.
Ambleville and Guyenne functioned as heralds and messengers.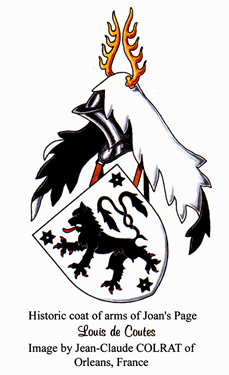 Louis and Raymond, who were only fourteen years old, served as pages.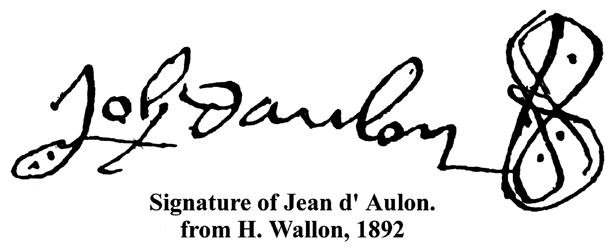 The fifth person that was added to her household was Jean d'Aulon who held the post of Chief Squire. He was financially poor, but had the reputation of being a virtuous and honest man. He faithfully lived up to this reputation while in Jeanne's service.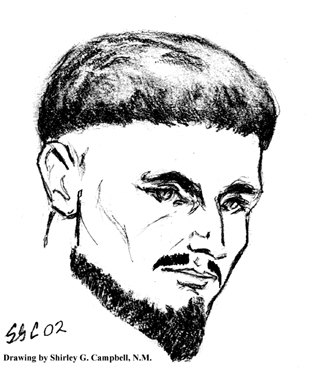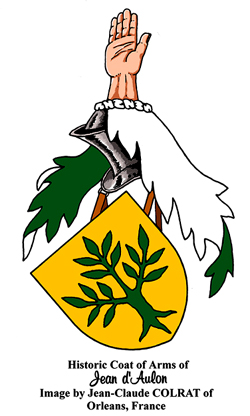 ---
One morning Jeanne, Madame de Paul, Bertrand and I were in the parlor eating a late breakfast. As April was still damp and cold, an energetic blaze of crackling fuel made the room more comfortable. A loud knock at the front door disturbed our brief moment of peace. After the door opened, there was silence, followed by a great commotion with shouts and scuffling. The lady was embarrassed by the disturbance and went out to see what the problem could be. We also were curious and went to look. When Jeanne saw who they were, she happily explained that these men were friends from her village. "Friends, how did you find me? Why did you come? Are mamma and papa well?"
The men were filthy from the road. Dirt crusted their hands and faces while they reeked of body odor! An old man, slightly stooped by age, was the spokesman for the group. His warm smile revealed only a few yellowing teeth. "Yes, Jeannette, they were well when last we saw them," he said giving her a hug. "Jeannette, we bring you this good Father. When you know him, you will love him much. His name is Father Jean Pasquerel."
"Your mother went on a pilgrimage with us to the Shrine of Notre Dame de Le Puy. Since this year's pilgrimage is a major one, because rarely does the Feast of The Annunciation fell on Good Friday, we made the dangerous and arduous journey. We traveled nearly three hundred miles one way from Domremy to reach this important and sacred shrine so that your mother and the rest of us could participate."
"There, we met Father Pasquerel. We found him to be very pious, simple and wise. Since your mother cannot be with you, while you are on this holy mission for God, she wanted you to have someone who would guide you. She believes he will make a very fine Chaplain. Your mother feels his good counsel and wisdom are the surest safeguard and truest comfort that she could hope for."
Jeanne excitedly took hold of the old man's arm as she looked over his shoulder. "Is mamma here with you? Where is she?"
Sympathetically, the old man smiled. "No, Jeannette, she had to return home to your father."
Jeanne, filled with surprise and concern by the comment 'your father,' asked, "What happened to my brothers?"
A roar of laughter came up from the group as it separated to reveal two of Jeanne's three brothers, Peter and John. While removing the cowls that concealed their faces, her two brothers joyfully stepped forward. Jeanne's face lit up with delight. She embraced them, showering them with kisses and warm hugs. "Welcome, John. Welcome, Peter. How good it is to see you. Do you have any news from mamma and papa?"
Peter was twenty-two years old. He looked a lot like his sister, also having black hair and blue eyes. He was about five feet ten inches tall, slender but very muscular from all the years of hard farm work. He proved himself to be a very friendly, loyal and amenable young man.
Peter joyfully embraced his sister. "Yes, Jeannette, mamma took off her favorite ring and told me to give it to you as a remembrance of her love." He placed the heavy alloyed gold ring gently into Jeanne's waiting hand. The ring's engraving encircled the outside edge and looked like this: + Jhesus + Mary +. With tears welling from her eyes, she tenderly kissed the crudely made ring. She then placed it reverently on the ring finger of her left hand.
There was not a dry eye among those who viewed the scene and with difficulty Peter continued, "Mamma also told me to give you a big hug and a kiss." With these words he gently kissed and hugged her. "Mamma went with us to Le Puy to pray for you.
She gave you to God so that He could do with you as He saw fit. She wants you to know, most of all, that she believes your mission is from God and so does papa."
John, the younger brother, was a muscular twenty years old, with dirty blond hair and light brown eyes. He had a strong tendency toward laziness, and excelled at finding ways to avoid his duties. Friendly only when it suited him, he was continually scheming for his social as well as financial advancement. While she could, Jeanne kept a tight reign on his dealings but despite her best efforts, John turned out to be a thorn in her side. Not wanting to be left out, he pushed his way in between them. "Papa and momma have forgiven you for leaving the way you did."
Peter ignored his brother's interruption. "She hopes and prays that He will bring you safely back home to her. She also prayed for the success of your mission."
Jeanne flashed the old man a smile and said to him, "Tell mamma that I love her and thank her for her prayers. I shall try to my utmost to do as God instructs me. And if it so pleases Our Lord, I shall be back home by next harvest time." She then turned back to her two brothers. "Since you both are here, I want you to stay with me. I want you to be part of my household staff." Thrilled by her request, Peter and John jubilantly agreed.
As Jeanne wiped the tears from her eyes, the old man pushed Father Jean into view.
As soon as Jeanne was given permission by the Church to proceed with her mission, she informed the Dauphin of her desire for her personal chaplain.
The Dauphin selected a priest for her but she declined his offer, telling Charles, "The King of Heaven will chose my Chaplain. I will know him when I see him." My own opinion is that the Dauphin's advisors were the ones who wanted this priest as a way of keeping a 'close eye' on all her activities. I am sure that they were quite annoyed by her independent spirit. But we will never know for sure if my suspicions were true.
Jeanne looked deeply into Father Pasquerel's eyes and with a broad smile she fell to her knees before him. "Good Father, in the name of God, would you be so kind as to be my chaplain through the difficult times that will follow. Please give me your blessing."
Father Jean speechless for a few moments, stammered out, "It is I who should kneel before you!"
Jeanne took hold of his hands. "Oh no, good Father! For all your priestly life you have honored the King of Heaven. And for this I will always kneel before you."
No longer able to contain his emotions as his eyes filled with tears. "Your love for Jesus will forever keep me by your side."
Jeanne tenderly kissed his hands. "You are God's gift to me. My Voices told me that you would come. It is my wish that tomorrow you will hear my confession and say Mass for me and my household."
Father Pasquerel smiled as he gently touched her cheek. "I will gladly return in the morning."
The Lady de Paul then invited Father Jean, Peter, John, the old man, and all Jeanne's friends in for some refreshments. Father Pasquerel declined the generous invitation. "I am sorry, Madame. I must return to my monastery to speak with my superior. I thank you for your kindness, but I must go." Bowing to all, he bid us "good day."
Being intrigued by this priest and how Jeanne's family had met him, I said. "Bertrand and I shall walk the good Father back to his monastery. You enjoy your visit with your brothers and friends. We shall see you later." Jeanne nodded in agreement.
Father Jean was a short man, only five feet tall. Yet what he lacked in height, he made up for in spirit and courage. Although unprotected by any armor, he would steadfastly remain at Jeanne's side through the heat of battle! Always ready to give her a guiding or reassuring word, he was a source of great comfort to her. He had a round face with brown eyes that were kind and gentle. As the custom required, the top of his head was shaven into a tonsure, showing his promise never to marry. This gave him the appearance of having a halo around his head. His six-inch light brown beard encircled the lower half of his face. He had a warm and winning smile that put all who met him at ease. Being a quiet and soft-spoken man, he never raised his voice in anger. As I recall now, I never witnessed him ever becoming angry. He was truly a saintly man.
His habit consisted of a long black robe made of a coarse wool. The sleeves were full and from his collar hung the cowl. Around his waist, he wore a wide black leather belt. In his belt, as if it were a sword, he carried a large wooden crucifix. On his feet he wore only thin sandals even in the coldest of weather.
As we walked, I introduced myself. "I am Jean de Metz, Father. This other gentleman is my friend, Bertrand de Poulengy. We accompanied Jeanne from Vaucouleurs to Chinon. Now we are a part of her personal staff. How did you happen to meet Jeanne's mother and her village friends?"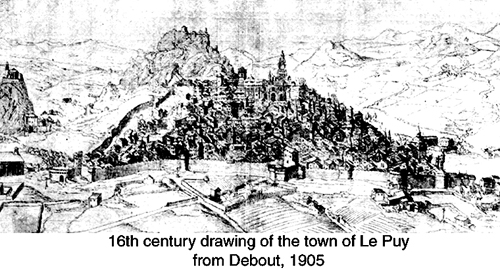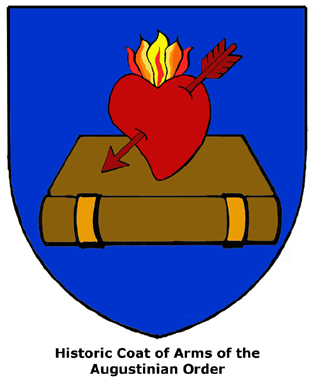 Father Pasquerel grinned while he maneuvered himself between us. "I must first state emphatically that I did not come to Jeanne's service willingly, but with much reluctance on my part. I shall explain why. At the time I, too, was making the pilgrimage to Le Puy. By chance, we were all lodged at the same inn. Either they liked the way I said Mass, or maybe it was my face, I do not know, but one evening this peasant woman and her friends came up to me and out of the blue, they started talking to me about Jeanne. I had never heard of her before and truthfully I thought it scandalous that a young girl should leave home in male clothing to fight for the Dauphin! They just kept insisting that she was a good and pious girl. She behaves so only at God's order. Then they even went so far as to ask me to be her Chaplain! Well, at first I said, 'No!' And I told them that I did not think it was at all right for a girl to go about with men and wear men's clothing! I would not hear of it!"
In disbelief he shook his head. "Do you know, they would not give up? Every evening they came back, asking me to be her chaplain. So I decided to watch them without their knowledge, to see what kind of people they were. I found them to be good and pious people, but I still had my doubts about Jeanne. They drove me crazy! So to get some peace, and to have them stop pestering me, I told them that I would go with them to meet her. I had every intention of putting Jeanne in her place and then walking out. I wanted to leave right up to the time I first entered Madame de Paul's home. In fact, as the old man was introducing me, I was ready to say 'good day' and leave. Strangely though, there was something in Jeanne's demeanor, something that stopped me. I cannot explain it, yet it was there. My feelings toward her changed instantly when she looked intently into my eyes and I into hers. At that moment, I felt a warmth fill my heart that radiated throughout my whole being. It was in that instant that I wanted to be her chaplain. God give me the grace, I shall be a good one."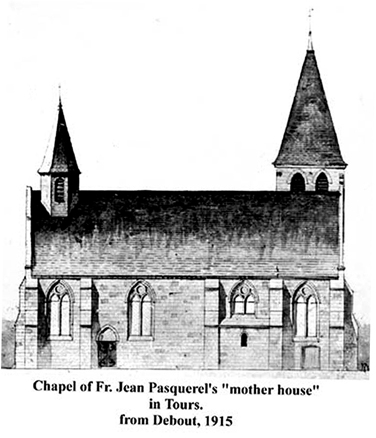 By this time we had reached the front gate of his monastery where we bid him good day. As we walked back to our residence, we marveled at Jeanne's natural ability to win people's confidence.
Father Jean came early the next morning to hear our confessions and to say Mass. His piety and reverence impressed her. "Father, will you do me the honor of joining my household as Chaplain?"
"At the very moment I heard you speak of your love of God I wanted to be your Chaplain. I spoke with my superior and obtained his permission to join you and he wished me Godspeed on my journeys. It is with honor that I accept the post. I promise to do my best to serve and guide you."
---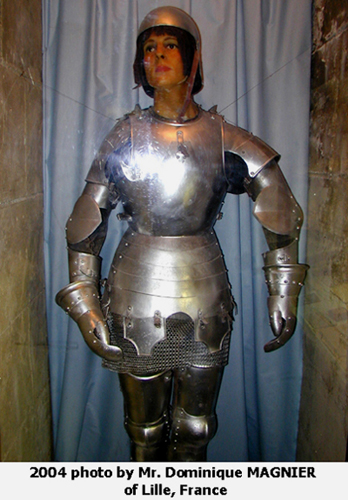 Later in the day, I accompanied Jeanne to the workshop of Monsieur Andre du Lac. He is the foremost armorer in all of France. Monsieur Andre measured Jeanne from head to foot. He was so meticulous that it took several hours just to take her measurements. During all this time Jeanne stood patiently, never seeming to mind the tedious work.
We were heading back to our lodgings when Jeanne stopped suddenly before a banner shop. "I just remembered my Voices told me to, 'Take up the banner of your Lord.' Passing this shop reminded me of it. Let's go in and see if he will make me a banner."
We entered the shop of Monsieur Hamish Power, a Scot living here in Tours. He was a serious but amiable fellow with a keen sense of color and design. Inside his shop, hanging all around, were examples of his magnificent work. Pennons, banners and standards of various sizes and designs filled the place with a bright array of colors and hues. Jeanne stood amazed for a moment before slowly circling his shop with an intense gaze. After viewing all his work, Jeanne picked up a piece of cloth that happened to be nearby, and began to trace out the design she wanted. "I would like a large, white standard made, please. On the front, I want the figure of Christ sitting upon a rainbow. In His left hand He should hold the world while His right hand is held high in blessing. There should be a kneeling angel on each side of Christ. One of them should offer Him a fleur-de-lys, the other a sword. Near the picture, I want the holy names Jhesus, Maria, written in gold. The rest of the standard should have gold fleurs-de-lis upon the white background."

Flipping the cloth over, she continued, "On the back side, I want the Holy Ghost as a silver dove on a blue shield, holding in His beak a streamer with the words, 'Through the King of Heaven.' I want a golden crown painted over the shield and two angels, one on each side who are supporting it. Please border the whole standard in white and gold silk."
Monsieur Power nodded. "I understand your design perfectly, Maid!"
While she was looking around his shop for the second time, a display of triangular-shaped pennons caught Jeanne's eye. Going over to them she painstakingly examined every detail of the workmanship. "Make me a smaller pennon, too. On this I desire painted the Archangel Gabriel kneeling before the Blessed Mother while he offers her a golden lily. This picture should be on both sides. Please make my standard and pennon of a strong material, as they must serve our cause well in battle."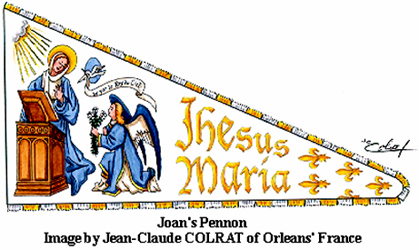 The Scot suggested, "If it is acceptable to you, Maid, I will also border your pennon with white and gold silk."
Jeanne flashed him a broad smile as she patted his arm. Writing down everything, he made his calculations on the spot. "I can accomplish the task easily, Maid. It will take me four days to complete my work, if that is acceptable to you."
Jeanne beamed with joy. "Yes, indeed, Monsieur, thank you." I then told Monsieur Power to send his bill to the Dauphin's treasurer, who would pay him for his work.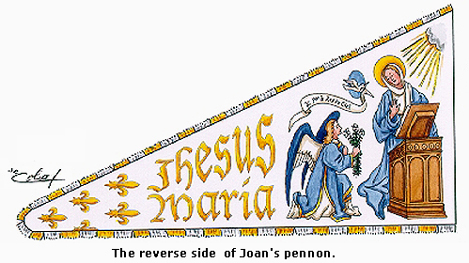 As we walked back to our lodging, I questioned the reason for ordering two flags. "I do not want to kill anyone! My job is not to kill, but to lead and encourage the Dauphin's army. To prevent this I shall hold the standard when I go to meet the enemy, while one of my pages will carry the smaller pennon, to mark my position in the field."
"I want you to write a letter for me, Angel. Address it to the priests at the Church of St. Catherine in the Village of de Fierbois. It is there that God has concealed the sword that I am to have as a symbol of my mission. There is a large flagstone behind the main altar and beneath it they will find a sword engraved on the flat of the blade with five crosses. Ask the priests to send it to me."
"It is as good as done, Jeanne. I shall write the letter as soon as we get back to our residence." Jeanne gave the completed letter to her herald, Ambleville, instructing him to stay at de Fierbois until the sword was found.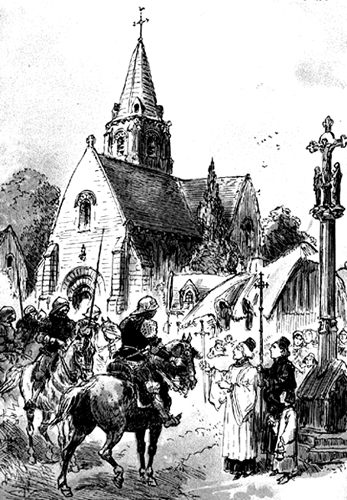 A few days later, Ambleville returned with the sword and his report. "Even though the priests of the church had no knowledge of the sword's existence, they looked right where you directed them and to their amazement they found it! The sword's blade was completely covered by rust so they decided to try and clean it. Their astonishment grew still further at what occurred next. Not knowing if this action would have any effect they rubbed the blade with a cloth and as they did so the rust peeled off as if it were dust! They polished it, and now the holy sword looks like new."
At this he stepped forward and gave her the sword of St. Catherine. She reverently received and kissed its hilt before laying the sword on the top of the table. "Thank you, Ambleville, for bringing me the sword of Saint Catherine. You did very well."
I walked over to view the sword more closely. "Jeanne, why do you call this sword, 'the sword of Saint Catherine'? Did it belong to her?"
Jeanne laughed at my ignorance. "No Angel, I call it that because she told me about the sword and where it would be found."

As I gazed at the blade, I remembered the words of my crusty old grandfather. I was only a young child then, but what he told me that day returned to my mind with vivid clarity.
"Seven hundred years ago, your august ancestor, Nicolas de Poitiers, related to his children what he heard and experienced during that momentous time. He told them to keep this memory alive for all the generations that would come after him. That they did, as I am now telling you.
"The Duke was a very noble man, well known for his bravery and courage in all matters. Yet he was a troubled soul because he believed he had dishonored God by relying too much on his own strength and not enough on Christís.
"Before the battle of Tours, Nicolas heard him say, 'How often have I drawn my sword against You, Lord, because I chose my own will over Yours. But now, as I and my brave men go into holy battle against Your worst foe, the accursed Mohammedan, I see that we are greatly out-numbered by them. Yet this time, I will not fail You, this time I have remembered to call upon Your strength and with the aid of Your Twelve Heavenly legions, Your people will prevail so that they may worship You, Lord Jesus, in freedom until Your return.'
"After the stunning victory back in the year of Our Lord, 732, the grateful Charles ordered that a church be built to honor the miraculous victory. At the dedication of the Saint Catherine of Alexandria church he placed his sword in the ground before the main altar where he knelt and prayed. 'Jesus, accept this my trusty war sword as I give it to You with heart-felt thanks. May it please You, Lord, that this sword will remain at rest, never to be used again, except at Your Command.'
"To their amazement, Charles and all those around him heard a voice reply, 'You will rejoice, when a far greater warrior wields it in MY name. It will be kept safe, here in MY house, until the day when MY true knight, through faith, would conquer and yet never draw blood. This sword will rest here for many years as its blade turns red with rust to symbolizing the blood I shed. The five crosses engraved upon its blade signify My five wounds and so I have claimed it for My own.'"
I trembled in awe as I thought, 'It is all true; what my grandfather had told me was true! For close to seven hundred years, the sword waited for the true knight of Christ to claim it, in His Name. Suddenly I realized that this old sword was the physical embodiment of Jeanne's covenant with Christ. The sword was placed there for Jeanne, long before she was born, long before the memory of her grandparents came to be. But God's power is infinite and this sword waited for Jeanne, she who was knighted by Christ.
I prayed that Jeanne's simple child-like faith would command the power of the 'Twelve Legions of Angels.' It was my hope, weak as it was, that her faith in Christ would drive the enemies of France far from our shores as Charles Martel's faith had driven God's enemies from France so long ago.