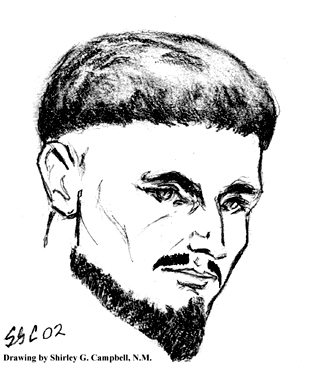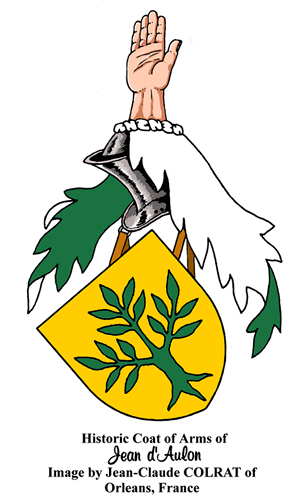 Jean d'Aulon, Part VII
CHAPTER 14
FORWARD TO VICTORY
On Friday, May 6th, as the first rays of sunlight began to break up the river's thick mist, Father Pasquerel heard Jeanne's fervent confession and then sang the Mass for her and the army. Less than an hour later the leader of the city's militia, not knowing about Count Jean's decision, had his men head for the Burgundy Gate and Fort Saint Jean le Blanc instead of Renard Gate and Fort Saint-Laurent.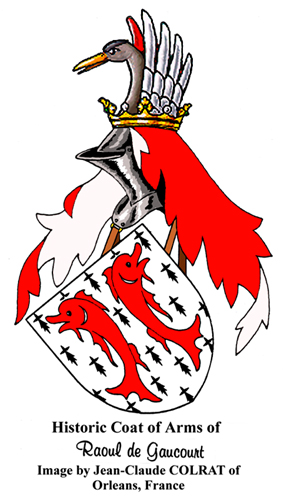 Captain Gaucourt and his men had been assigned by Mortain to prevent anyone from leaving the Burgundy gate. As the militia advanced toward Gaucourt's position, he commanded them to stop. "You are to go against the English at Saint-Laurent, not here! I have orders from Count Mortain himself not to let any one in or out, no matter who they may be!"
The head of the militia held his men steady as he sent word to Jeanne asking for her help. She came in an instant! Jeanne reigned in her charger just a few feet from where Gaucourt stood. Her bright, red surcoat reflected her emotions as she angrily shouted, "Gaucourt, you are indeed a wicked man to prevent these people from departing. Whether you will or no, they shall go out and will succeed just as well as they did the other day!"
The crowd of unruly militia became ugly as they worked themselves into a frenzy. First one and then another began to scream, "Death to Gaucourt!" Soon all the men were yelling for his blood. "Death to Gaucourt! Death to Gaucourt!"
Gaucourt frightened for his life, gasped, "Open the gate! Open the gate!" Since he was not able to stop them, he decided to join their number and as the militia rushed past him, he yelled, "Come and I will lead you!"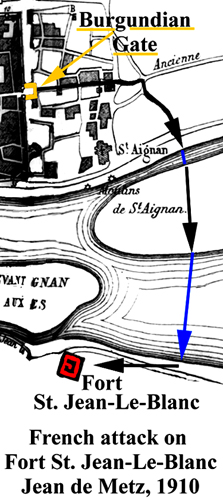 Jeanne unsheathed her magnificent sword with a whoosh as the breeze tossed her black hair wildly. "Go against Fort Saint Jean le Blanc." She ordered the militia leader. "Take the boats that are moored at the river's edge to get your men across. I will join you shortly after I get La Hire and Mortain and their men to join in the assault."
He saluted her. "Right, Maid. I will await your coming," and in a flash he was out the gate.
Jeanne rushed back to her lodging where she ordered Bertrand, "Go find La Hire, Mortain and as many of the Scots as you can find. Tell them to meet me with their troops at the Burgundy Gate. Go now!"
It was difficult for me to arm her, because in her excitement and eagerness she constantly paced while she gave her orders. Louis carried Jeanne's pennon while Raymond bravely held onto her standard. Jean de Metz had her stallion saddled and ready to go. Jeanne came racing down the steps, her armor noisily clanking, and flew out the door. In a flash she leapt into her saddle and was off once again for the Burgundy Gate. Waiting there for her were Bertrand, Jeanne's two brothers, John and Peter, and La Hire with his troops, along with the entire Scottish contingent. Jean de Metz and I quickly arrived on the scene, as the column was just about to march out. Jeanne spurred her charger into action. "We must go to the assistance of our friends who are hard pressed by the Godons." Her little voice rang out like thunder, her eyes intense and dangerous.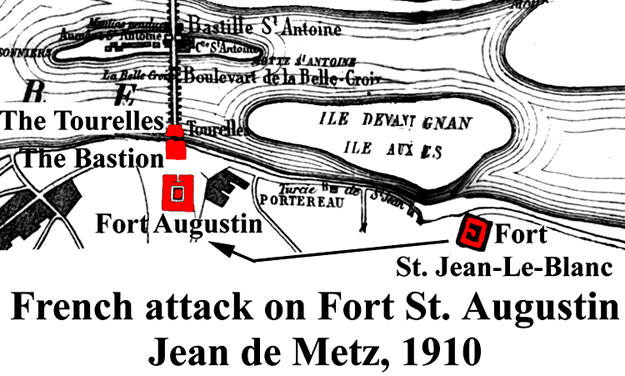 The English in Fort Saint Jean, seeing the crazed mob of militia coming at them, decided to abandon it. Instead they headed for the security of the more strongly defended fort called The Augustin. Unfortunately, the ill trained and unruly militia drastically overestimated their ability and continued their attack. The English easily beat them back, causing many French casualties. We could hear the clash of battle and could see the desperate situation the militia was facing from across the river.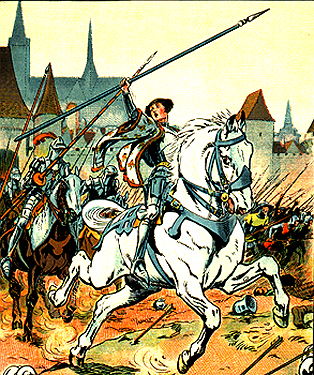 Jeanne and La Hire were the first to reach the other side of the river. Immediately they mounted their chargers and couched their lances in battle position. "NOW," yelled La Hire, and then they were off with the speed of lightning. As Jeanne rushed toward the enemy she shouted to the retreating men who streamed past her,
"Do not fall back! Forward! Forward!"
The adrenaline pulsed through her veins as she rode like the wind beside La Hire into the thick of battle.
Rallying to Jeanne's call, the men turned swiftly in their tracks to charge the enemy. Jeanne and La Hire, continued their forward advance, breaking through the English line! They boldly maneuvered through the enemy as easily as a ride through standing grain. Meanwhile the rest of our forces had just reached the south side of the river. To the blare of trumpets we mounted our steeds and charged the foe.
Far behind the last of the English soldiers, both La Hire and Jeanne discarded their lances and turned their horses. Facing the enemies' rear La Hire drew his sword. He waved it in defiance before plunging his charger headlong back into the terrified English! Brave and skillful La Hire rushed upon them. He struck in quick succession to the right and left in a bloody arc of steel, leveling a warrior with each of his blows. With Jeanne hot on his heels, she too immersed herself in the fray, but for her weapon she used her superior horsemanship to disrupt the English formation. With elegant dexterity and the agility of a hawk in flight, she turned and wheeled her massive charger. The stunned English soldiers stared in dread at Jeanne as she weaved and darted her way through them. She seemed unafraid. The soldiers, closest to her, were motionless with fear because they thought her to be a witch clothed in bright armor.

The cries of the wounded and dying men were barely audible in the storm of our furious blows. Jeanne and La Hire did not tarry long among the English, but swiftly returned to the cheering French. Here Jeanne took her pennon in hand while she shouted her encouragement to our men. The fury of the encounter caused the English forces to retreat in chaotic disorder back to the protection of Fort Augustin's earthen bulwark and there they made their stand against us! Jeanne was like the sun, and our soldiers thronged around her. "Death to the enemy." they shouted with a murderous fury.
For many hours the militia and the regular forces fought the English in hand to hand encounters. The deafening and terrible noise of the battle, as well as the billowing clouds of dust formed in the bitter turmoil, only added to the confusion of this bloody fray.
I dismounted and continued the fight on foot. Thrusting, striking, parrying and striking again, I with my fellow knights dealt mighty blows. Bathed in sweat and blood, we fought like war machines, till the day had grown old. Suddenly and for no apparent reason, our forces lost courage. In spite of Jeanne's encouragement and La Hire's blustering, they again started to retreat. All that Jeanne and La Hire could do was to bring up the rear so that our retreating men could make good their escape. The English saw this sudden change of events and came rushing out of their fortifications with murderous fury. As they chased Jeanne, they hurled taunting insults at her, "Ha! The whoring witch can't depend on the Devil for help. Look how the cowgirl herds her cattle! Let's get her and roast her!"
"Cowards! Liars!" Jeanne screamed back at the advancing English.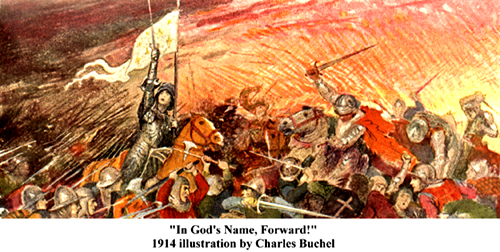 They came to within fifty feet of us, squeezing our forces between them and the Loire's watery depths. Jeanne blustered in fury for a moment. Then, with her white pennon in hand, she unexpectedly changed direction. "In God's name! Forward, forward boldly! Face these bloody English!" With the last rays of the bright sun flashing off her armor, Jeanne turned her horse so hard that it reared on its haunches, throwing back one or two steeds to her rear. Once again, she charged the enemy. Once again, the army rallied to her side rushing toward the English. Our men sounded their war cry, "For God and Saint Denis," and dashed forward while raining frightful blows upon our foes. This time, the English were too far from their fort to reach it safely and they were leveled like weeds. The French swarmed forward like a silver wave, throwing themselves upon the desperate enemy as we raced for the fort itself.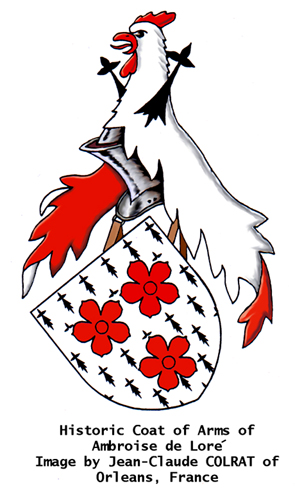 Jeanne, in the heat of battle, bashed helmets and up-rooted standing English soldiers, with the sturdy end of her pennon's staff. With the clang of the weapons mixing with the shouts of the combatants and the blare of the trumpets, another vicious battle developed. The splendid armor of my adversaries was now defaced with the dust, blood and sweat of the battle. The stouthearted Ambroise de Loré was by my side as we boldly advanced into the thick of the enemy.
Each strike of my mighty broad sword snapped a leather strap of my opponent's armor. I continued, blow after blow, until finally a part of his armor gave way and fell to the blood-soaked earth, leaving him exposed to my next attack. I leveled frightful blows upon them, cutting, hacking, and piercing my opponents through. I littered the ground with body parts as I split them from their former owners, an arm here or a hand there. Drenched in the blood that spurted from their severed limbs, the scene blurred before me as I left a trail of devastated and dismembered bodies in my wake. Filled with a violent frenzy, I faced a worthy English Lord. Fierce and powerful were his blows as he tried to pound me into extinction. I turned and wheeled, parried and thrust, as my arms ached from the pain of my exertion. Blow upon blow we dealt and received. Blow upon heavy blow we fiercely exchanged until luckily I was able to by-pass his stout blade to deliver his death. Putting all my strength into my swing, I struck! It was with a feeling of satisfaction that I severed his head cleanly from his shoulder! As his helmet went one way and his detached head bounced and rolled a few feet away, this awesome knight still stood! With his blood gushing like a fountain up and over his breastplate, his arms continued to move and do battle with me! For the next few seconds, which seemed to me an eternity, this headless corpse swung and flailed his arms refusing to die, refusing to let me pass! In stunned amazement I watched as a cold hand of fear gripped tightly around my throat! I broke out in a bone chilling sweat as I thought, "My God in an instant this could be me." Coming to my senses, I once more struck a blow that finally toppled him. For an instant I watched his crumpled body twitch in a heap upon the ground. Then it stopped.
The field of battle was by now slippery with the blood of the fallen. Also encumbering the place were bits and pieces of broken armor and the bodies of the slain and wounded men and horses. I then caught sight of a valiant Spanish knight named Sir Alphonse de Partada. He was one of our company but he had broken our line and was rushing bravely forward. I ordered him back in line so that he would advance in step with the rest. But he only contemptuously sneered while challenging me to equal his feat of bravery. Thus to prove my valor, I swiftly accepted. We clutched each other's hand and ran up the earthen embankment.
Defending the narrow gate into the fort stood a mammoth Englishman! Tall, powerful and strong, he seemed bigger than La Hire! His brawny arm thwarted our combined best efforts as if we were but children before him. We ordered him to yield or die! His laughter was deep and resonating as he retorted that he would break us like twigs. I knew he would have to die before we could gain entry into the fort's interior. Both Alphonse and I attacked him once more using all our furious might, but our best efforts were like a breeze against stone.

Stepping back in exhaustion, I noticed my friend, Master John, 'the Cannonier.' He was the best shot in all the Dauphin's army with that newfangled 'gun' of his. So I called out to him as I pointed to this vast human obstacle. "Master John, do me the service of dispatching this English dog to Hell!" He nodded and moments later his shot rang out. The mighty English giant lay dead with his intestines spewed all over the ground, shot out by the impact of the miniature cannonball. Alphonse and I both took a leg and we dragged this former hulk of a man out of the way.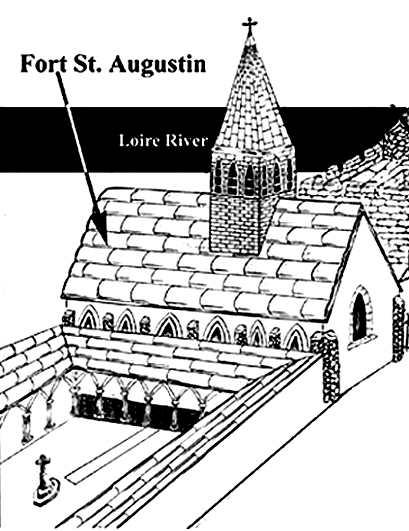 Meanwhile Jeanne dismounting from her charger stepped on a spiked metal ball used to lame horses. This Devil's device pierced the sole of her thick leather shoe and entered her foot. Though hurt and limping, Jeanne continued to encourage her men. "Enter boldly! The place is yours! God will's it!"
Using her pennon's staff as a support, she painfully climbed to the top of the earthen bulwark! How magnificent she looked with the last crimson rays of the setting sun reflecting off her armor. Standing there, with her bold pennon billowing over her head, she stretched out her arm and pointed toward the fort. Jeanne looked larger than life, unconquerable, God's avenging angel! In spite of her injury she tirelessly cheered us on, "Enter boldly! God is with you. In the Lord's name, let us go in bravely!"
It was soon over and with this one battle we had gained two forts. That of Saint Jean, and the greater prize, The Augustin! The capture of the Augustin was very important because it left only the lynchpin of all the English forts, the Tourelles, as the last remaining fort on the south side of the river! Those English not killed, wounded or captured found refuge inside its stony walls. Now only the Tourelles stood between us and a free Orleans!
---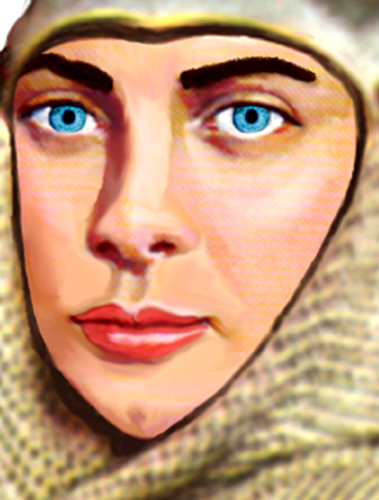 Among the prisoners found within the ruins of the Augustin was Guyenne! Jeanne was pleased to see that he was unharmed and welcomed him with a warm embrace. She then ordered the Forts of Saint Jean and the Augustin to be destroyed. Thus ensuring that the English could never again use them as a safe haven from which to attack us.
When the heat of battle was over, Jeanne saw the carnage spread before her. In a gasp of horror her face paled and her eyes widen. The sight of the dead and dismembered bodies as well as the smell of the blood-drenched ground sickened her greatly. She had to turn her back and close her eyes as she buried her face deep into her trembling hands. Jeanne forced herself to walked among the dead and dying, crying long and bitterly for them all, the English as well as the French.
Not knowing what to do, I gently placed my hand on her shoulder. "You have brought mercy and compassion to this war by giving the enemy three opportunities to leave Orleans. Truly, you have granted more quarter to the enemy than anyone else has ever done before!" Jeanne heard me, but she continued to lament and wail for the dead. Before my eyes, the great warrior had changed to a girl of seventeen. I was dumbfounded.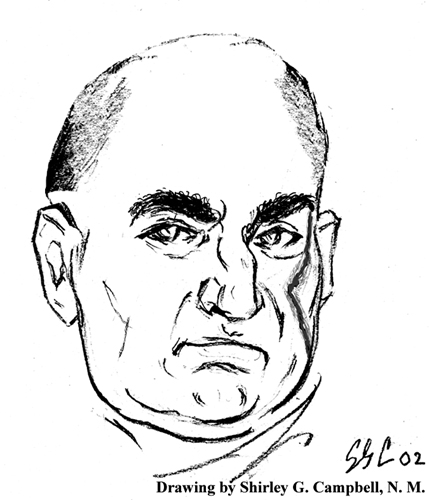 Because of their joy at this extraordinary victory, the captains did not know how to react or behave before their grieving angel. They came to Jeanne one by one or in groups of three and four. Elated they clasped her shoulders or arms, playfully shaking her back, they cheered the victory. "What a wonderful victory we won over the Godons, Maid!"
"There now, don't cry like a girl." blustered La Hire. "You've been baptized into the bloody fraternity of the man at arms." Merrily thumping her shoulders with his mighty hands he added, "Your one of us now!"
She smiled mutely through her tears as the captains rejoiced and celebrated the victory. Over time her sobbing diminished and she wiped her eyes. The captains did not consider the consequences of their request. "Now, can we pull our troops back into the city for the night?"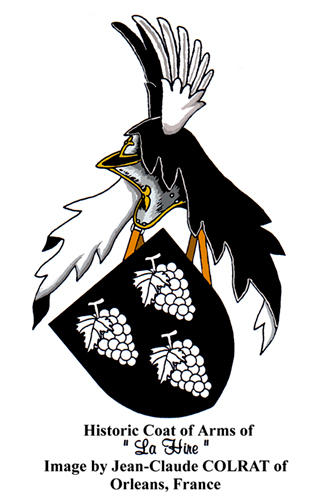 Jeanne snapped, "What?! And lose what we have just won? What are you thinking?" Still using her pennon for support, she slowly hobbled among the captains. She cried as she pointed to the dead. "Don't you see how easy it would be for Talbot, Classidas, and the rest of the English to retake this fort during the night, thus making their defenses of the Tourelles that much more secure? We would lose all that we have paid so dearly to win! All these men would have died in vain, if we do that!" She rammed the end of her pennon's staff deep into the ground. "No! We will stay here tonight, and lay siege to the Tourelles in the morning."
La Hire was all for the plan. "By my staff, the girl has got more horse sense than the lot of us. I say we do it!" Finally, with the encouragement of La Hire, the other captains reluctantly agreed. Jeanne was grateful to her stone-faced La Hire.
Mortain was concerned for Jeanne's welfare. "Jeanne, I want you to go back to Orleans. Get something to eat and have your squire tend to your wound. Try to get some sleep, for tomorrow the decisive battle for the city will occur! We will stay here and hold our position."
---
Back at our lodging, I cleaned and dressed her foot. After that she took her first meal of the day, a few slices of bread dipped in water reddened with some wine! Jeanne spoke with Father Pasquerel. "Rise tomorrow even earlier than you did today. Do the best you can to stay near me because I will have much need of you. I shall have much to accomplish, even more than before. Tomorrow the blood will flow from my body, above my breast."
Father Pasquerel blinked and stared at me for an answer. Distressed by her prophecy he questioned "Jeanne, are you not afraid? This is a very serious event that you predict. Is there nothing I can do to help you? Is there nothing that can prevent it?"
Jeanne really looked at him for the first time. She weakly smiled just for him. "Yes, Father Pasquerel, I am afraid. I am very afraid at the thought of the pain and suffering that I must endure tomorrow. If it were not for my Voices' encouragement, I don't think I would even venture forth tomorrow." Quickly a look of determination filled her. "Yet, I must go! It is my duty! It is the price that I must pay, and pay it I will!"
"I will do my best...."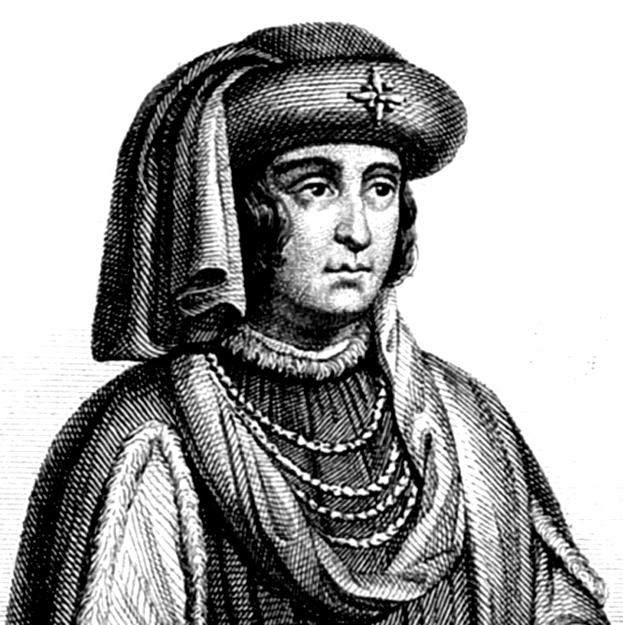 Father Pasquerel was interrupted by a knock at the door when a young knight proudly strutted into the room. "Pardon, Maid, but I have a message to read to you from the captains. They held council together and decided that we were out-numbered by the English."
Jeanne's eyes narrowed on the poor fellow. "READ."
He took a small scroll from his sleeve and began to read.
"God has shown us great mercies in the victory already obtained. Considering that Orleans is now well provided for, we might as well await the help that the King has promised. It does not seem advisable to this council that the soldiers should go out against the enemy tomorrow."
The young knight finished his task, rolled up the letter. While avoiding Jeanne's gaze he pompously requested, "Do you have any reply to make to the captains, Maid?"
Jeanne leaned close to Father Pasquerel's ear. "Do you see now why I have to go out tomorrow?" Jeanne turned her attention back to the young knight. "You! Go back to that council and tell them this! You have been to your council and I have been to mine. Now, believe me when I say that the Council of God will be accomplished and succeed and that yours will fail! NOW, go! GO!" The messenger almost ran out the door.
The next morning, concerned about the captains' decision not to do anything further, the town burgesses came to Jeanne. "We have held council and we require you to fulfill the task you have received from God and the King."
She nodded anxiously. "In God's name, I shall do so!"
Jeanne was about to leave for the battlefield when Madame Boucher brought her a fish. "Jeanne, you should eat before you go."
Shaking her head 'no,' she smiled. "Keep it for supper, because I will bring you a Godon, who will eat his share too." Jeanne looked toward the bridge and prophesied, "I will come back by the bridge." Then with me holding her standard before her, Jeanne spurred her horse forward. "Let those who love me follow!"
The militia of Orleans formed ranks behind her and we marched out of the city to win back the Tourelles. Jeanne went before us bravely pointing the way.