THE FACE OF SAINT JOAN
BY
Virginia Lindsley-Frohlick
This is the true story of how "The Face of Saint Joan" came about.
My quest to have a portrait of St. Joan started with a longing to illustrate my Historic Novel:
JEANNE! GOD'S HOLY WARRIOR.
It was my hope to have an accurate illustration created based on the historical records that were preserved through time.
I tried to find a local artist who had the time and talent to do the work but after many years of frustrated searching and false starts, I was left with nothing.
With this lack of progress hanging heavily on me, I finally decided to try and create an image of St. Joan using the computer program PHOTOSHOP 4.0. I based my image on the "Head of Saint Maurice" that is found at Mr. Patrick J. Smith's web site: http://tellthe.net/JoanOfArc/index.html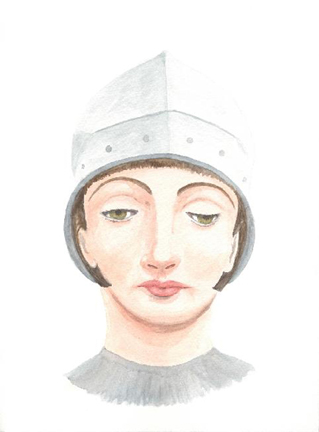 Watercolor by Barbara R Smith. Copyright 2001.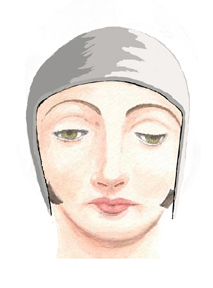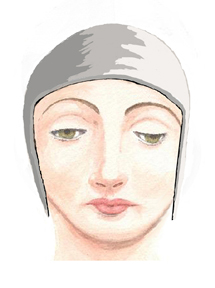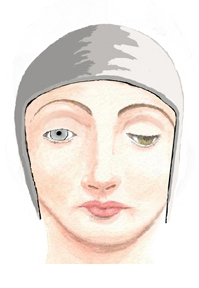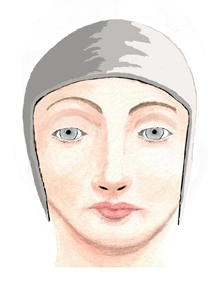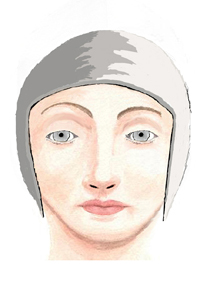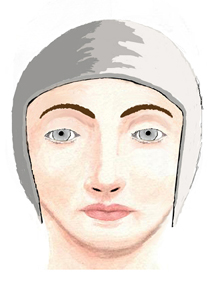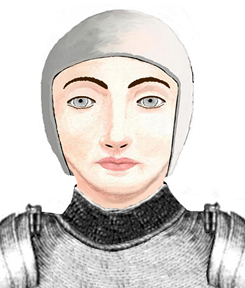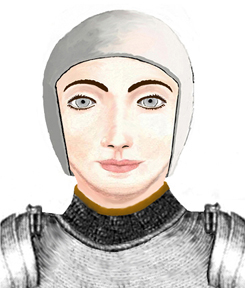 After some 10 or more hours of painstaking work I produced this image.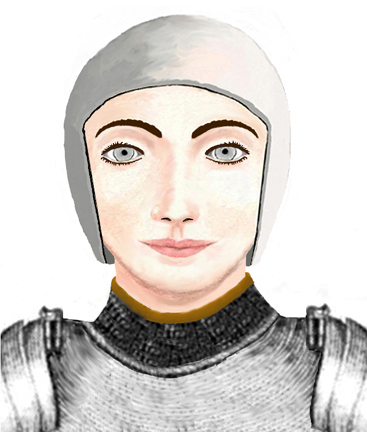 Although pleased at first with my results, upon reflection and the input of my many friends, I was still NOT satisfied. And so, with great disappointment, I was back where I had started.
I asked a dear friend, (a retired nun who wishes to remain anonymous), if she would be willing to try. She most graciously accepted the challenge and within a very short time I received this illustration.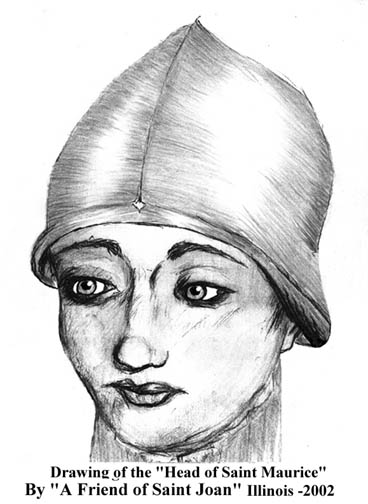 You can not know how very pleased I was to receive this illustration; I said to myself: "Thank you Sister! At last, I finally got what I was looking for!" And I was more than content to use this image as my novel's illustration of St. Joan.
Well this was my plan, but GOD had a different idea!
In April of 2002, my Pastor, Fr. Tom Zotter, had a very large copy of an original photograph of Saint Bernadette of Lourdes placed in the vestibule of my Parish Church. From the moment it was hung, I was, for some strange reason, drawn to it. I kept looking into the eyes of this young peasant girl and found great peace and holiness there.
The truth is, I believe GOD, THE HOLY SPIRIT, inspired me with the thought: "This is the face of St. Joan!"
My first reaction was "No, how can that be?" Be the more I looked at her face and thought about how both St. Joan and St. Bernadette were from peasant stock and they both saw Heavenly visions; I thought "Why not used St. Bernadette's face as the basis for creating an image of St. Joan. And so with renewed vigor I returned to my 'good old' Adobe Photoshop' and went to work. I changed St. Bernadette's clothing and the color of her eyes from brown to gray and after many hours of work I had created this image.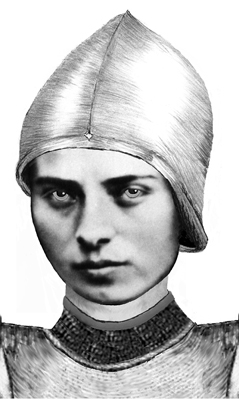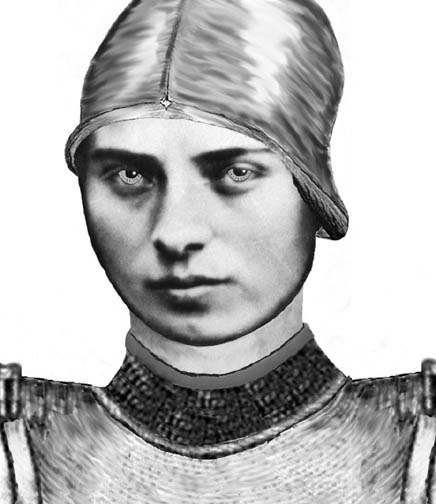 Most pleased with what I had done. I wanted my good friend, who lives in Australia, too 'see' my accomplishment. Mr. Glenn Talaue, is a Catholic Mystic, who has been graced by God to have had been able to see and speak with Saint Joan. I know he would be the best person to show this image too in order to make my creation as close as humanely possible to what Joan actually looked like.
Mr. Talaue was impressed with my work and told me that I 'must have been inspired by God' because with only two very small changes, (increasing the size of her pupils and the size of her lips), I had created
THE FACE OF SAINT JOAN!
So it is with great pleasure on my part to share this 'VISION' of St. Joan with all the world so YOU too may have the blessing of looking into the eyes of OUR beloved friend, Saint Jehanne d' Arc!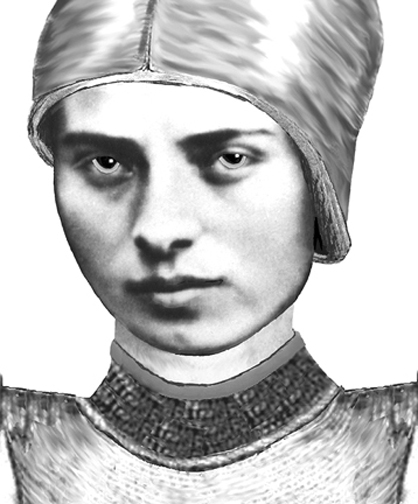 ---



---