A Tribute to Jehanne La Pucelle from an Old Friend, Mr. Ron Aksnowicz of Chicago, Illinois
Not having any talent in the Arts and wanting to make a small contribution to the vast amount of material that already honors Jehanne, Ron was blessed with finding Ray Rubin a painter who loves producing images from history.
Ron's small part in the creation of this canvas was to furnish Ray with all the background information necessary to complete this work.
The painting is titled:
Jehanne La Pucelle d'Orleans
The image was done on an 18 X 24-inch canvas.
As the work was completed in the early part of the year 2000, Ron believes that this creation was the first image of Jehanne produced in the 21st century.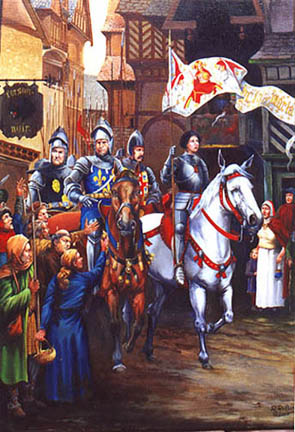 ---
This second oil painting, created by an unknown artist depicts Jehanne in heaven. It was probably painted in 1920 or soon thereafter as it is very similar to the tapestry that was commissioned by the Vatican for Jehanne's Canonization.
O God that madest this beautiful earth, when will it be ready to receive Thy saints?
How long, O Lord, how long?
Quote from George Bernard Show's play SAINT JOAN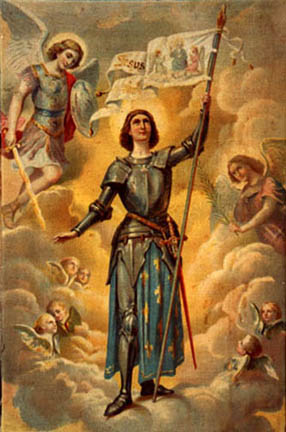 ---
The following is based on the 1880 French equestrian statue by Emmanuel Fremiet, which stands at the Place des Pyramides, Paris. When Ron first got this antique statue it was in very poor state of repair but thanks to his expertise in repairing and restoring such items it is now back to its original splendor.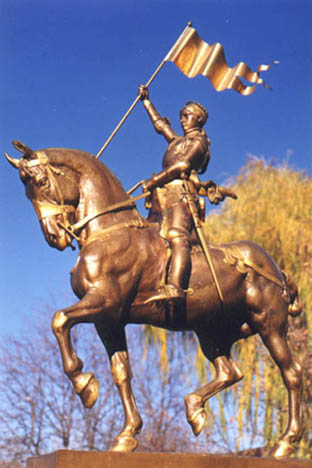 ---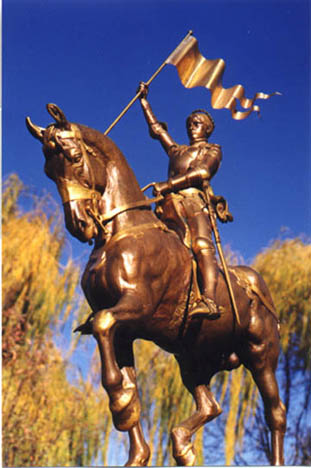 ---
Originally this statue was a mono-colored and nondescript statue of Joan at the stake but with Ron's model painting abilities he was able to create this fine work of art.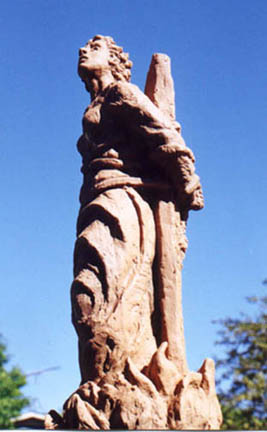 ---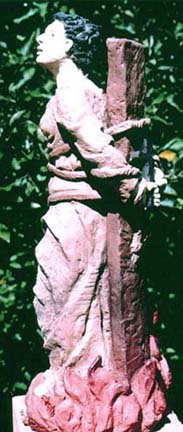 ---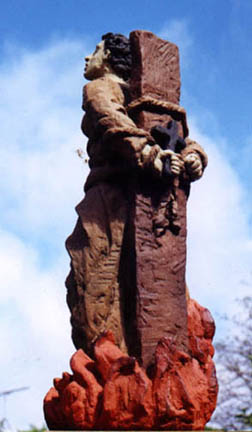 ---
This is a copy of the late 19th century French sculptor Antonin Mercie's statue Jeanne d'Arc. The B&W photo is the original statue followed by Ron's color photographs of his statue.

---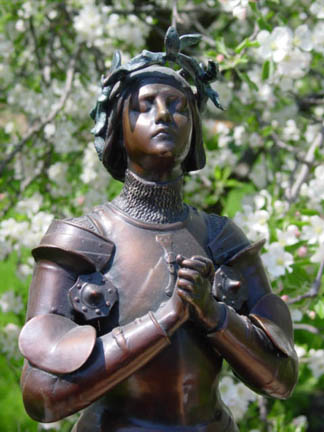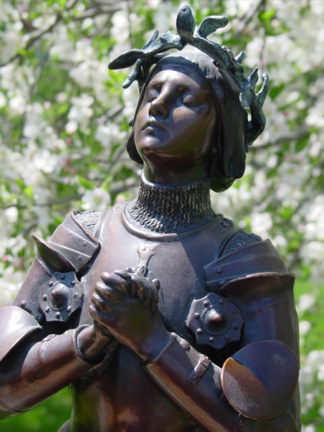 ---
The two images and the poem that follows come from a 1920 French book of poems.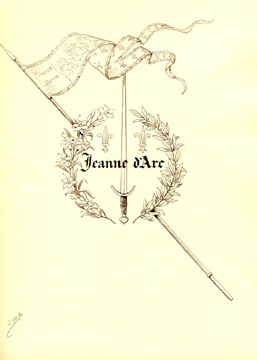 ---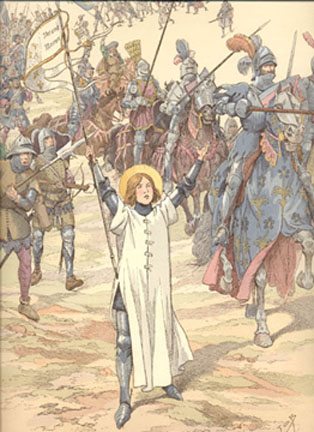 ---
If any one can translate this poem it would be greatly appreciated. Thank you.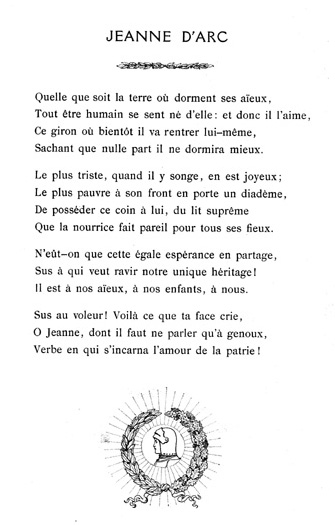 ---
The print comes from a series of lithographs "PARIS DANS SPLENDEUR", Paris 1860 folio size 24X35 cms plus boarders. Titled "Jeanne d'Arc Blessee Sous Les Murs De Paris" (le 8 Septembre 1429) designed by A.Bayot.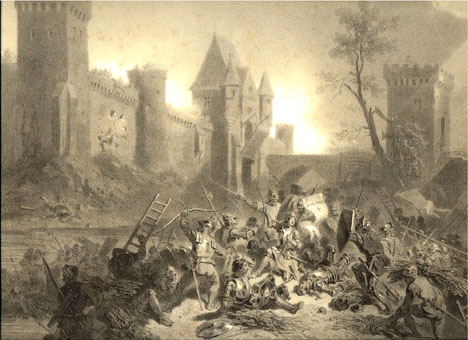 ---
The following poem comes from the May 26, 1894 issue of PUNCH, OR THE LONDON CHARIVARI

The poem is called: THE VISION AND THE VOICE;

OR FRANCE'S DREAM OF THE MAID OF ORLENANS

A DRAMATIC FRAGMENT

["God's mother deigned to appear to me,

And in a vision full of majesty

Will'd me to leave my bass vocation

And free my country from calamity"

Joan of Arc in First Part of King Henry The Sixth, Act I, Sc. 2

"France wants a Cobden much more than she wants a revived Joan of Arc" - Daily News]

La République

(log.) Alas! The sun of fortune, honour, fame,

Shines on poor France no longer; sombre, nights,

Haunted by hosts obscene of ravening things,

A carrion-hunting crew, o'ershadows me,

And in its darkness I seem doomed to fall

Like Herod, vermin-stricken!

[A light shine, wherein shapeth the shade of The Maid of Orleans]

Jeanne d'Arc

. Saint not so!

The France I lived and died for, and which, late,

Doth me high honour, shall not set me up

A sainted shrine, yet sink herself in slime,

Like some dark Dagon-idol overthrown

In a morass, prone midst the rotting reeds,

Face-buried in the mud-flats, and mere haunt

For foul and creeping creatures.

La République.

(reverently) Holy Maid!

Heroic Champion! Hope lives in they voice,

And inspiration in thy high regard.

Jeanne d'Arc.

Let inspiration then quichen high hope,

And shame despaire!

La République.

Alas! France no more

Thy Vision, Maid, nor hears they Voices!

Now

Our visions are of vile and venal gain,

The voices that seduce us are the cries

Of hucksters not of heroes; jangling shrieks,
creeds,
Of warring factions and wild-wresting
Unchivalrous swash-bucklers snatch the sword
name,
That Bayard stainless bare' e'en glory's

Is sullied with the gold taint. Glorious Maid!

Our sole reveilles are the Bourse's shouts,

Our pæans ring from the polluted lips

Of Café-Chantant heroes and cocottes,

Our loudest litanies are godless hymms

To knave-success and withching wantonness,

Songs in the service of our chosent cult

Of Mammon and of Ashtaroth

Jeanne d'Arc

Too True!

And yet despair not, seeing that my day

Was a worse hell of cruelty and lust,

And coward greed, and superstitions foul

My Dauphin a voluptuous weakling was,

His court a coarse Gehenna, and his camp

A congregation of ferocious curs

And valiat villains; with Boulanger's bag,

And Hirsch's greed, and Lesseps's fralty.

With apish fraud, and ant-like pettiness,

Tigerish hate, grasshopper flightiness

My age was rife, - no Honour, Firmness, Faith!
Sorels.
Your Burgundys, your Reigniers, your

Your blatant Rabagas, your light Cigales.

Say, are they worse then mine?

La République

But France had you!

With Patriotism and with Purity,

In one heroic form, for inspiration,

What might I do? Oh, for a Heroine

Like you, oh Maid!

[is now Jeanne d'Arc gravely] Nay, France need

A Hero - and a Man!

[the vision fades]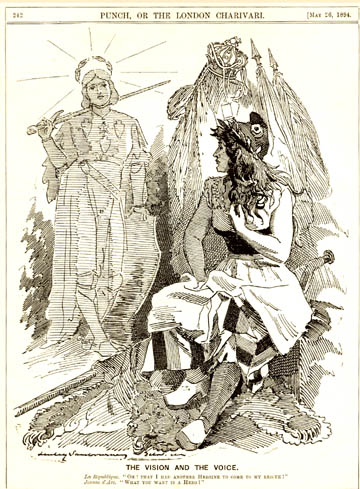 ---
---
---
Virginia Frohlick-Saint Joan of Arc Center
stjoan@stjoan-center.com