DIORAMA
The Attack on the
Bastide of Saint-Loup
Outside of Orleans, France
4th MAY, 1429
St. Joan's First Victory

Project started April, 2000 finished July 31, 2001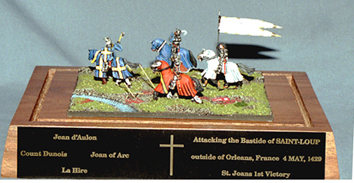 ALL PHOTOS BY Tom Krekelberg
Mike ADAMS - researcher and purchaser of figures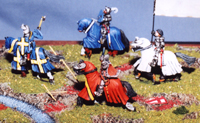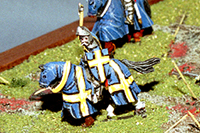 REVENGE
Miniatures - manufactured by Old Glory, USA
HAW - 16 "French Personalities."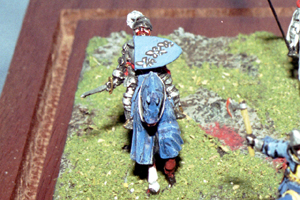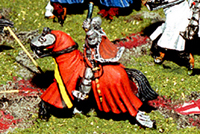 Steve L. LAWRENCE - researcher, assembler, painter of figures and creator of plastic 'ground.'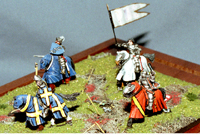 Johnsburg Public Library of Johnsburg, Il.
Director of Library: Maria ZAWACKI
Librarian Researchers
Virginia BRYA
Paulette BABCHAK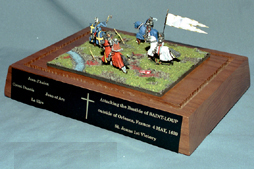 Mary KREKELBERG, Librarian - Indian Prairie Library, Darien, IL.
Tom KREKELBERG: builder and stainer of wooden base, designer and purchaser of faceplate.

B. Gunther & Company, Inc. of Lisle, IL. engravers.
Liz MONTANTES - Company representative.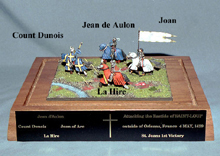 Novotny Servistar Hardware of Johnsburg, IL.
Dave provided the plexiglas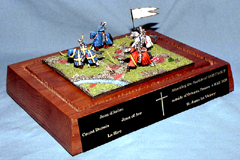 Saint Mary Parish of Mc Henry, IL.
Rev. Thomas E. BURR, Pastor, blessed this diorama on July 31, 2001.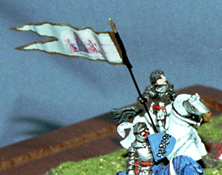 Lawrence DiPRIMA
Primary researcher
Creator of Joan's Battle Standard, primary researcher, assembler of
plexiglas case, faceplate, figures and base.
Producer, Director and Financier of entire project.
---

Index
---
Virginia Frohlick-Saint Joan of Arc Center
stjoan@stjoan-center.com