St. Joan's Battle Standard, Pennon and Banner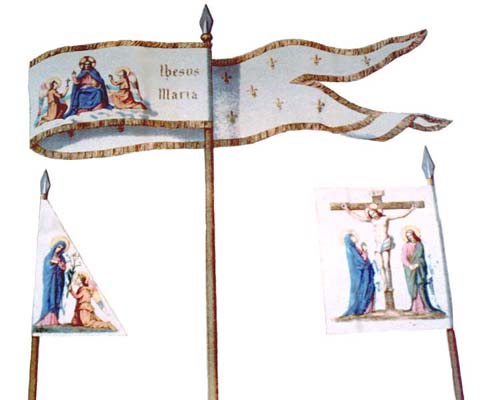 Standard (top)
Pennon (left bottom) and Banner (right bottom)
In 1429 Joan asked Hamish Power, (French name: Heuves Polnoir), a Scotsman living in Tours, France, to design her standard and pennon.
A few months later, Father Jean Pasquerel designed her banner in the town of Blois.
STANDARD
Material: "buckram" ( a material similar to the canvas artists paint on) with a silken fringe
The standard was 3 feet wide and 12 feet long.
Side One Image: Upon a field of golden lilies, an image of the King of Heaven seated upon a rainbow, and holding in one hand the world in the form of a globe, the other being raised in a gesture of benediction. Before Him, to right and to left, were the kneeling figures of Michael and Gabriel, each presenting to Him a fleur-de-lys. Joan's motto "Jhesus-Maria was written in letters of gold on this rough material.
Side Two Image: Was an escutcheon: a field of azure charged with a silver dove holding in its beak a streamer with the words "De par le Roy di Ciel."
Purpose: Standard was the "fluttering sign" to which her army could rally when dispersed in confusion of battle.
PENNON
Image: Depicted the Annunciation, the Virgin Mary receiving from the Archangel Gabriel a double lily, which was the twofold symbol of France and of chastity.
Purpose: Pennon was carried by one of her squires to mark her position in the field.
BANNER
Image: Joan insisted the banner display the words "Jesus Crucified"
Purpose: Banner was intended for the priests and the men of her army to gather around for daily prayer.
---
From Lucien Fabre's book, Joan of Arc .
---
Michael Anthony Patrick Smith's Drawings of St. Joan's Battle Standard
The items seen in these photos are for sale at "Swords and Armour from Millenium" in Perth, Australia.

Mike's e-mail address is Lindesay Blackburne-Kane lindesay@eisa.net.au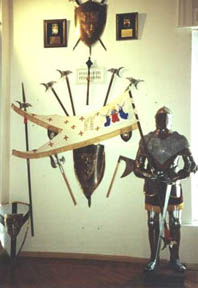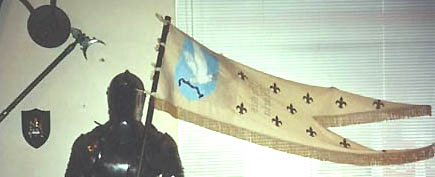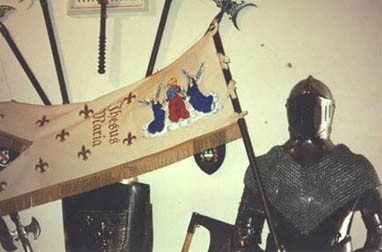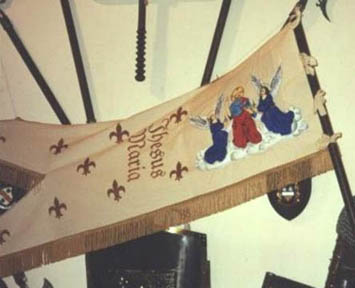 ---

Go up one level
---
Virginia Frohlick
stjoan@nmia.com